93 Moments Of Pure Gr1 Gold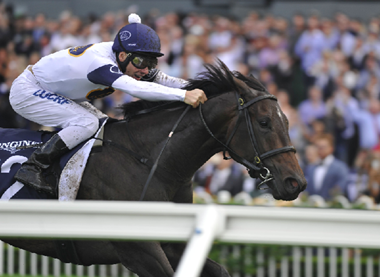 Welcome to the 2017 Gr1 Annual, an archival celebration, writes Gary Knowles, of Australia and New Zealand's elite events from the 2016/17 racing season.
Being published, as it is, just days before the AFL's Grand Final at the MCG, a back-of-serviette Gr1 Annual calculation suggests a parallel of sorts for racing. The footy extravaganza plays out over around three hours, about the same time – give or take – as the actual race time for all our 93 Gr1 features over the year.
Notwithstanding that the late trainer George Hanlon quipped that horses are only human, like Olympians our champion racehorses earn veritable Gold over different distances, in handicaps, set weights and weight-for-age finals – sometimes against their own sex, sometimes in mixed company.
From incorrigible two bob punters, racing aficionados, breeding purists to frocked or fedora-festooned fashionista fans, Gr1 features provide a glamorous stage that showcases racing's finest going head to head.
In retaliation for our annual Bledisloe Cup misery, Australians would love to boast of thoroughbred dominance over our kiwi rivals, however the merit of New Zealand Gr1 form invariably stands up. The crème of their gallopers perennially emerge victorious in a swag of our most important events. Last season the status quo remained intact.
And so to the seasonal dominators, a period during which Black Heart Bart captured a Gr1 quartet, Kawi a treble and several a double. But if any single horse defined Gr1 racing during the 12 months, and continues to do so, it's Winx. Her six Gr1 wins in 2016/17 bettered her five the season before.
But those are just statistics.
As racing administrators know only too well, Winx's omnipotent presence alone is enough to bring thousands more through the gates, and even bigger numbers into club coffers. Racing's darling provided trainer Chris Waller with two thirds of his nine Gr1 winners, the half dozen also augmenting jockey Hugh Bowman's 13. In fact, he and fellow hoop Kerrin McEvoy (9) won nearly a quarter of all the Gr1 races on offer.
Meanwhile, despite the aura surrounding big ticket gallopers that vie for racing's lucrative spoils, each season seems to turn up out-of-left-field battlers that give the silver tails the finger.
In 2016/17 one of those was She Will Reign (pictured), a $20,000 yearling filly who didn't give a fig for her supposedly better-heeled rivals on Golden Slipper Day, audaciously putting them to the sword. Ditto the curiously named Gingernuts who overcame both his $5,000 weanling price and his moniker to grab a double dose of Gr1 glory – on both sides of the Tasman Sea. Passed-in for $20,000, villainous Black Heart Bart mugged his rivals with rapacious repetition, and $10,000 yearling Yankee Rose picked up another Gr1 to go with her top-flight juvenile victory a season earlier.
Amazingly, exactly 33.3 percent of last season's Gr1 winners could have been purchased for $130,000 or less – a lot less in many instances. And even though Winx cost $230,000, well, anybody would have happily paid the extra $100k with the benefit of hindsight and a bank balance that now reads $13,475,425. So far. No, don't feel sorry for yourself. The underbidder already has a crippling mortgage on that what if nightmare.
Herewith, then, 2016/17's Australian and New Zealand Gr1 racing review; in a nod to George Hanlon, let the horses speak for themselves.