2018
Pierata Wins Magic Millions 3YO Guineas
Monday, 15th January 2018
At the Gold Coast in Queensland, Coolmore's 2YO Triple Crown-winning Champion stallion Pierro (Lonhro-Miss Right Note, by Daylami) added a restricted stakes race success when rising star colt Pierata (Pierro-November Flight, by Flying Spur) showed why he is considered one of the most exciting 3YOs in the country when sprinting clear for a brilliant win in the $2 million Listed (R) 3YO Guineas (1400m) for 3YOs, defeating Goodfella & Calculated. Pierata, who improved his record to 4 wins (including the Gr3 Magic Millions Vo Rogue Plate) and 2 placings from 8 starts for $1,481,650 in earnings, was a $160,000 purchase at the 2016 Magic Millions Gold Coast Yearling Sale from the draft of Kitchwin Hills. He also collected a $500,000 bonus for claiming the Summer Crown grand slam which, along with the $1.2 million winner's cheque, provided his connections with the richest payday ($1.7 million) in Queensland racing history. Trainer Greg Hickman said Pierata had the potential to develop into a serious racehorse. "When he grows up you'll see a real racehorse," Hickman told Racing Queensland Webnews. "He's not there yet and that's the scary thing." He added: "I'd love to run him in a race like the Doncaster [Gr1] but he'll go to the paddock now and we'll just look after him before we work out a plan."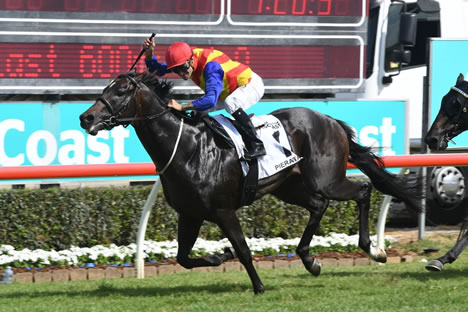 Pierata (image: Steve Hart)
Final Magic Millions 3YO Guineas Field
Tuesday, 9th January 2018
Eighteen three-year-olds have accepted to run in Saturday's $2 million Listed (R) 3YO Guineas (1400m) at the Gold Coast. With a field limit of 16 runners there are two emergencies. Highly rated Pierro colt Pierata is the dominant $2.50 TAB favourite for the race, with Sasso Corbaro ($5) and Calculated ($9) the only other runners under double figure odds. Click here to view the Magic Millions Guineas field.
2017
Siege Of Quebec Wins Again
Monday, 17th July 2017
Blue blooded colt Siege Of Quebec confirmed Group One plans for the spring after maintaining his perfect record at Rosehill on Saturday. The $1.2 million Easter yearling, who is raced by a syndicate comprising trainer Gai Waterhouse, Tom Magnier, Nordic Racing & Breeding, and Julian Blaxland, extended his record to 2 wins from as many starts when fighting back gamely to defeat the highly regarded Calculated in the #Theraces Handicap over 1400m. Siege Of Quebec will now follow a program aimed at the Gr1 Golden Rose (1400m) at Rosehill on 10 September. "He's bred to be anything. Once he puts it all together and learns he'll be a serious horse," co-trainer Adrian Bott said. "The immediate plan is that we will be heading towards the Golden Rose." Bott added: "We have a plan mapped out for him, probably going through the Ming Dynasty leading in." By Fastnet Rock out of Rose Of Cimmaron (Bite The Bullet), Siege Of Quebec is a full-brother to the smart Gr3 MRC Manfred Stakes winner Bull Point. Rose Of Cimmaron, herself, is a full-sister to Gr3 winner and prolific producer Mica's Pride, dam of multiple Gr1 winning stallion Criterion, Gr2 winner Varenna Miss, Gr3 Eskimo Prince Stakes winner Comin' Through, and Listed winner Silently.
2015
Rise In US Foal Crop Predicted
Tuesday, 11th August 2015
A first year-on-year increase in the North American foal crop in more than a decade is being predicted for 2016, reports Racing Post. The Jockey Club of North America projects a thoroughbred foal crop of 22,500 for next year, up from 22,000 in 2014 and 2015. "The projection for the 2016 foal crop is based on reports of mares bred received to date, and we estimate that around 80 per cent of those reports have been received," The Jockey Club's executive vice president Matt Iuliano said. The foal crop projection is calculated by using Reports of Mares Bred (RMBs) received to mid-August for the 2015 breeding season.
2014
2015 US Foal Crop Steady
Monday, 11th August 2014
The Jockey Club, the principle governing body dedicated to the maintenance of The American Stud Book, announced on Saturday that it is forecasting the 2015 North American foal crop will remain steady at 22,000, reports bloodhorse.com. The projections for the 2013 and 2014 foal crops were 23,000 and 22,000, respectively. "The projection for the 2015 foal crop is based on reports of mares bred received to date, and we estimate that approximately 80% of those reports have been received," said Matt Iuliano, The Jockey Club's executive vice president and executive director, in a statement released by the organization. The foal crop projection, traditionally announced in mid-August, is calculated by using Reports of Mares Bred received to date for the 2014 breeding season. RMBs are to be filed by Aug 1 of each breeding season.
Local Newmarket Economy Thrives From Racing
Friday, 24th January 2014
Horseracing benefits the economy of Newmarket in England by more than £208 million annually and is responsible for more than 8,500 jobs within a 25-mile radius, according to a new study released by economic research provider, SQW. EDP24.co.uk reports that racehorse trainers are the leading contributors to economic activity in the area, generating just under £100m per year, followed by stud farms with £81.2 million. The independent study is the first-ever commissioned to measure the scale and economic significance of Newmarket's horseracing industry and its surrounds. The study found that direct jobs in the racing industry, plus temporary 'events-related' employment at Newmarket Racecourses and sales, produce expenditure on wages totalling nearly £80m, some 38% of the total £208m economic impact calculated. Not surprisingly, the study predicted a bright future for the area, identifying what it describes as 'promising signs of potential for further growth in the horseracing industry' around Newmarket.
2013
5 Hong Kong Gr1s Make World Top 50
Thursday, 21st March 2013
Five of Hong Kong's 15 Gr1 races have been included in the International Federation of Horseracing Authorities annual list of the world's top 50 Gr1 races (for the NH 2012 season and SH 2011/12 season), reports racing.scmp.com. The list is calculated using the international ratings of the horses involved in the races, and "reflects the Hong Kong Jockey Club's pursuit of the world's best horses to compete in their jurisdiction." The 5 races are the Hong Kong Cup (25), Hong Kong Sprint (=32), Hong Kong Mile (34), Champions Mile (=42) & Hong Kong Vase (45).
Moonee Valley Bends Time For Caviar
Wednesday, 13th February 2013
In a scene akin to Back To The Future, the Moonee Valley Racing Club (MVRC) has already taken measures to accommodate what may be the final Victorian appearance of mighty mare Black Caviar in the Gr1 William Reid Stakes on Friday March 22. Nominations, acceptances and race times have all been preemptively re-calculated forward to ensure Melbourne's adoring racing public can watch her swansong en masse. Nominations for the $400,000 William Reid will now close on Monday Feb 18, with final acceptances declared on Monday March 18. Should Black Caviar declare, the MVRC will re-configure race times for the Friday night meeting, with the first race to be run 30 minutes earlier (5.45pm) and 30 minutes between races until race 7 at 8.45pm, with the William Reid field to face the starter at 9.45pm in the final event of the evening. MVRC chief executive Michael Browell commented: "If Black Caviar was to contest the William Reid Stakes, the Club would expect a capacity crowd to witness one of the historic moments in Australian racing… The logistical challenges that need to be managed for an event of this magnitude take considerable time to undertake, and an indication on Monday, 18 February when nominations close for the William Reid Stakes that Black Caviar could contest this race will allow the Club five weeks to plan every aspect of the night… The Club has already developed a number of exciting promotions and entertainment plans for this event based on the possibility that Black Caviar could race, and the early nomination and acceptance deadlines will give the Club the necessary time to ensure the night's celebrations are befitting the enormity of the occasion."
2012
Pletcher Tempers Lasix Concerns
Friday, 26th October 2012
In the lead-up to the rich Breeders' Cup Series on November 2-3 leading US trainer Todd Pletcher is opting for a less hysterical approach in regard to the banning of Lasix from the series, reports bloodhorse.com. With 3 of his 10 Breeders' Cup hopefuls nominated for the 2-year-old-races, which appear to be feeding the most concern regarding the Lasix ban, Pletcher calculated: "It is unchartered waters ... But of the juveniles we entered, I don't anticipate any problems, at least I hope not. The only way to know for sure is to run them, see how they perform, and scope them afterwards. We haven't done anything different. The important thing is to have them healthy. If they are and they haven't bled before, their chances of bleeding will be greatly diminished ... I'm hoping that because they're younger horses they have had less stressful campaigns and are less likely to bleed. However he countered this argument with: "One of my concerns about the removal of Lasix in general is it can be a disadvantage to the betting public. As an industry, it is something we have to look closely at. That's why I'm pro-Lasix. It will be a concern not racing them on Lasix for the first time, but hopefully they'll perform up to their standards."
2011
US Owner Sues Walmac Over Shuttler Ready's Image
Friday, 8th July 2011
In the US, the "accountability of a stallion syndicate's finances & the duties a farm has to communicate that status, are at the heart of a lawsuit prominent owner-breeder James Scatuorchio filed against Walmac Stud Management, Saybrook Advertising & John Jones III" reported thoroughbredtimes.com. Scatuorchio alleges in documents filed in the Superior Court of New Jersey that the conduct of the defendants "is nothing short of a fraudulent criminal enterprise calculated to induce others to repose their trust & property in them & a tremendous sham of smoke & mirrors ensues thereafter keeping individuals such as myself from receiving money that is due". Scatuorchio says the defendants misrepresented "themselves & their stature in the industry from the beginning of a relationship that started when Walmac acquired a 2/3-interest in Scatuorchio's Gr2-winning colt Ready's Image (More Than Ready-Clever Phrase, by Clever Trick) in 2008 for US$2.4-million"; Scatuorchio retained a 1/3-interest & used his shares "to breed mares to the stallion" (whose 1st foals are yearlings). Ready's Image stood at Walmac for US$12,500 in 2009, for US$8,500 in 2010 & for US$6,500 this year. He has also shuttled to Australia (standing the 2011 season at Lincoln Farm in NSW). Scatuorchio's attorney Richard Schibell declared: "The horse stands in both the Northern & Southern Hemisphere & was reasonably popular. He should be generating at least US$1 million in revenue every year, yet my guy hasn't seen a dime. He's put US$175,000 toward bills on this horse & it's always just pay, pay, pay. How many years do you pay into a horse & receive nothing in return?" Schibell added Walmac has "mostly stymied his client's request to audit the books related to Ready's Image" & noted: "This is an argument about integrity. Every other stud farm we've dealt with in Kentucky is honourable & straightforward. The end result is we're going to get an accounting, get paid what's due & make this right." Scatuorchio also owns 10% of Vinery's dual hemisphere stallion More Than Ready "as well as significant interests in English Channel at the Farish family's Lane's End & Scat Daddy at Coolmore's Ashford Stud.
Changes To Qld Off-Course Price Fluctuations
Thursday, 3rd February 2011
Racing Queensland announced that, after liaising with the Australian Prices Network, it has "decided to alter the manner in which it determines what bookmaker prices to send off racecourses in Queensland through the APN fluctuations system". RQ director of integrity operations Jamie Orchard said there has been "concern expressed for some time about inflated prices being offered for the purpose of influencing prices or dividends offered elsewhere (including 'top flucs' prices) with the possibility of Brisbane bookmakers taking advantage of those inflated prices. While RQ has itself identified examples that may give rise to a suspicion that prices are being manipulated, it is unlikely that sufficient evidence will be available to take any disciplinary action." Orchard noted: "While it is up to individual bookmakers to set their own markets, it is up to RQ to ensure that genuine prices are being sent off-course, so as to give off-course punters confidence in the published fluctuations & therefore greater confidence in wagering on Queensland races. RQ will not allow individuals' actions to put at risk punters' confidence in the Queensland product. Accordingly, in future, the prices sent off-course will be calculated by reference to major bookmakers, but to the exclusion of any bookmaker suspected of having been involved in improperly setting prices. Where only 2 bookmakers field, this may mean the prices set by 1 bookmaker will be sent off-course, regardless of whether that bookmaker is offering the best prices. Of course, betting supervisors will be particularly vigilant to ensure this approach operates effectively & the process will be kept under review."
2010
NSW Court Confusion 3: All Sides Claim Victory
Thursday, 17th June 2010
Meanwhile under the headline "Bookies Score Refund From Racing NSW", The Sydney Morning Herald reported the Federal Court "has found Racing NSW was wrong to discriminate in the fees it charged smaller bookmakers such as Sportsbet & must repay some of the money". The newspaper summed up: "In a complex decision that had all sides claiming some form of victory, Justice Nye Perram ruled the Darwin-based Sportsbet was right in its argument that fees charged by Racing NSW discriminated against interstate bookies, in favour of Tabcorp, which has an exclusive retail licence to run the NSW TAB." And the paper emphasised that "an explanatory note produced by the court" says: "The court has concluded that whilst it may well be permissible to impose a fee on all operators, regardless of their state or territory of residence, as a matter of fact that is not what has happened & was not what was intended to happen." The Herald reported Racing NSW representatives "said outside the court that they believe the judgement had vindicated their right to charge a fee based on turnover & that it showed the legislation allowing it to do that was valid". The paper also noted Justice Perram "dismissed a related case against the industry body (Racing NSW) by betting exchange Betfair. Betfair had argued fees should be charged to bookmakers on gross revenue, not turnover, as charging 1.5% of turnover disadvantaged low-margin operators in favour of the TAB." Betfair "plans to continue its push to have fees calculated on a new funding model". Betfair chief executive Andrew Twaits said he disagreed with the Racing NSW interpretation of the judgement that the court had found in favour of the turnover model. & declared: "He (Racing NSW chief executive Peter V'landys) must have read a different set of reasons!"
2007
Tabcorp Boss Warns Bookie-Tote Odds Issue Far Bigger Than EI
Wednesday, 19th December 2007
Tabcorp chief executive of wagering & media Robert Nason declared the Victorian Government's allowance of corporate bookmakers offering tote odds "the most important issue in racing right now: far, far bigger than equine influenza". Nason told Melbourne Radio Sport 927 the government must look at its existing legislation & enforce it if required, because bookmakers offering tote odds compete directly with Tabcorp's exclusive licence which runs to 2012 & for which it paid large fees to maintain exclusivity. Nason called for Racing Victoria to "decide if it was the landlord, gamekeeper or poacher of the business" & warned Tabcorp will act to protect its business interests, emphasising: "This is something we have raised recently with government & this is something that has been raised again with some of the statements made at Racing Victoria's annual general meeting. It is probably the most important issue in racing right now: far, far bigger than EI & far bigger than any other issue on the agenda right now." Nason said there are currently about 10 corporate bookmakers offering the full range of pari-mutual services & tote prices for all the products Tabcorp offers & noted: "In the last 12 months since Racing Victoria in thoroughbreds approved tote odds for both on-course bookmakers & under race-fields legislation for corporate bookmakers, we have seen Northern Territory turnover go from $1.7 billion to $2.7 billion per year." Nason said that increase is largely due to offering tote prices: "We have calculated there is about $520 million in turnover, just on tote odds. We have no problem with corporate bookmakers, or any other bookmaker: we actually think they stimulate the market & on a fixed-odds basis we are fully supportive of their operation. But on the tote odds only, they are taking $520 million of turnover out of Victoria. That compares with the current impact of EI of $68 million. So we are talking something that is 9 times as large as the impact of equine influenza on Victoria. We are saying the cost to the industry in Victoria last year was $40 million & the cost to the Victorian government in taxes out of this behaviour was $17 million." Nason warned bluntly: "Our interpretation of the Act leads us to conclude it is an offence in Victoria to offer tote dividends."
2006
NZ$32m Benefit From Tax Change
Wednesday, 29th March 2006
New Zealand Racing Board chairman Warren Larsen announced the benefit from the duty change outlined by Racing Minister Winston Peters on March 10 (& expected to be effective from August 1) "is estimated at approximately NZ$32 million per annum calculated on current turnover". Larsen noted: "The Board is determined this valuable injection into the industry is invested prudently to stimulate enhanced returns for key stake-holders & confirmed "3 key areas of priority investment":
improved returns to wagerers through a reduction in take-out rates (NZ$6-9 million)
improved returns to owners through increased prize-money & possible initiatives to encourage increased participation (NZ$17-20 million)
targeted infrastructure investment (NZ$6-9 million)
2005
Inglis Travel Subsidy
Tuesday, 20th December 2005
In Australia, Inglis will launch an International Buyer Subsidy from February 2006. The 2-tiered travel subsidy is calculated on the basis of spend (minimum $50,000) & distance travelled, with rebates up to $8,500 for European purchasers & up to $10,000 for US purchasers who spend more than $150,000.