2018
Aquis Announces $1M Bonus Scheme
Tuesday, 3rd July 2018
has announced a $1 million bonus scheme designed to support the stud's first season sire The Mission and the Queensland breeding industry, reports AAP. There will be 11 individual bonuses available to any 2YO sired by The Mission (Choisir-My Amelia, by Redoute's Choice) during the 2018 breeding season at Aquis Farm in the Gold Coast hinterland. The biggest bonus will be $1 million for any of The Mission's 2YO progeny who can win a Group 1 race, the Classic or the Millennium. Aquis will donate 10 per cent of any payment to thoroughbred or farming charities. "We have an obligation to look after those less fortunate than ourselves," said Aquis chief executive Shane McGrath. "At Aquis we are grateful to be part of a thriving industry that is in a position to give generously to those in need."
Aquis Announces 2018 Two-State Stud Fees
Friday, 4th May 2018
In local breeding news, Aquis has announced its 2018 stallion roster comprising 13 stallions at properties in New South Wales and Queensland. "Highlighting the roster will be the Champion 2YO Colt and Snitzel's highest-ever rated 2YO Invader, who will be joined on the Hunter Valley roster by the speed machine Spieth who is the best son of Champion Sire Thorn Park to stand at stud in Australia. Spieth, who came within a lip of winning a Group One in both the Classic and the Lightning Stakes, will be retired at the end of the Brisbane Winter Carnival, with Craig Williams booked to ride him throughout his final campaign," revealed CEO Shane McGrath. "We are also delighted to welcome the outstanding Gr1-winning juvenile The Mission, who is by the emerging sire of sires Choisir. The runaway winner of the Champagne Stakes at 2, The Mission will join our Queensland roster following his Brisbane campaign, with James Ormond booked to ride him in the Gr1 Doomben 10,000." Another newcomer for Queensland is Kobayashi. An exceptionally fast 2YO who is completely free of Danehill blood, Kobayashi will be the first son of I am Invincible to stand at stud in Queensland.With fees for The Mission and Spieth to be announced following their retirement in coming months, McGrath noted, "All Aquis stallions will be restricted to a book of no more than 175 mares per season." Aquis' stallion fees include GST, with payment on live foal terms for all its stallions. The full Aquis two-State line up comprises:
AQUIS, HUNTER VALLEY, NSW
AQUIS, CANUNGRA, QLD
Spendthrift Australia Announce 2018 Fees
Tuesday, 1st May 2018
has announced two new additions to its 2018 stallion roster as well as its fees for its entire roster. Joining the roster this year will be Gr3 winner Overshare (I am Invincible). A winner at two, Overshare won the Gr3 Zeditave Stakes and the Listed McKenzie Stakes (both at 1200m) at three. "We cannot wait to get him to the farm for breeders to see because we feel that he ticks all the boxes," said Garry Cuddy, general manager of Spendthrift Australia. "He's by a champion sire, he's a multiple stakes-winning sprinter, and he definitely looks the part." From the family of five champions and a $320,000 Easter yearling, Overshare is being offered on Spendthrift Australia's Share the Upside program at a fee of $15,400 (inc. GST) for a one-time only payment on live foal. He will also stand for $11,000 (inc. GST) on live foal terms. Also retiring to Spendthrift is Gold Standard (Sebring), winner of the Gr2 Stan Fox Stakes at Rosehill in which he defeated Group 1 winners Trapeze Artist, Ace High and The Mission. "Sebring is a sire that we have a lot of time for and we are very excited to offer breeders his well-performed son," said Cuddy. Gold Standard will be offered on the Share the Upside program for $7,700 (inc. GST) for a one-time only payment on live foal. He will also stand for $5,500 (inc. GST) for breeders wishing to breed on live foal terms. Along with its two new stallions, Spendthrift Australia is also returning its four stallions from 2017 in Hampton Court ($5,500), Jimmy Creed ($8,800), Swear ($5,500), and Warrior's Reward ($7,700). All four returning stallions will be offered on the farm's Breed Secure program and on live foal terms.
Pariah Joins Redoute's Choice Dynasty At Arrowfield
Tuesday, 24th April 2018
Star juvenile and 3YO colt Pariah (redoute's Choice-Secluded, by Choisir) joins the Redoute's Choice dynasty at Arrowfield and will stand his first season in 2018 at a fee of $22,000 inc GST, with sixty mares already committed to him by his strong shareholder group. Arrowfield chairman John Messara commented, "Snitzel, Not A Single Doubt and Beneteau – all by Redoute's Choice, all outstanding 2YOs and all outstanding sires. Pariah is in the same mould and we are excited to stand him." Bought by James Harron for $700,000 from the 2016 Easter Sale, Pariah won the Gr3 ATC Canonbury Stakes (1100m) on debut at Rosehill in January 2017, defeating Menari. After finishing second in the Gr3 MRC Blue Diamond Prelude Pariah started favourite in the Gr1 Blue Diamond S. where he was caught in the shadows of the post by Catchy after racing three wide without cover for much of the 1200-metre journey. Pariah was Timeform's second top-rated 2YO colt of 2016-17, given a figure of 118, just below Invader & She Will Reign (both 119), and ahead of Gr1 winners Summer Passage, Catchy, The Mission & Trapeze Artist. Pariah returned as a Spring 3YO when he overcame an awkward draw and a weight penalty to win the Gr3 ATC San Domenico in sizzling time. He then filled second spot behind Menari in the ATC Run to the Rose H. G2 with Kementari and Invader in arrears. The three-quarter brother to dual Gr1 winner Melitoretires to stud with two wins, three placings and $541,000 prizemoney from 9 starts, all at Group level. James Harron will be heavily supporting Pariah at stud with mares that include Gr1 winner Shamal Wind and Group winners Petits Filous, Real Stolle and Scarlet Rain.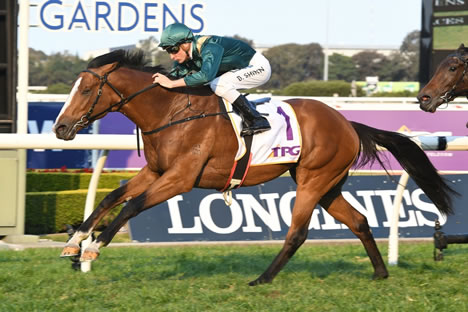 Pariah will make his stud debut in 2018 (pic: Steve Hart)
2017
The Mission Wins Gr1 Champagne Stakes
Tuesday, 18th April 2017
At Royal Randwick in Sydney, multiple Gr1-winning shuttler & former star Australian sprinter Choisir (Danehill Dancer-Great Selection, by Lunchtime) celebrated an elite success when 2YO colt The Mission (Choisir-My Amelia, by Redoute's Choice) led all the way to claim the third leg of the Sydney 2YO Triple Crown – the $500,000 Gr1 Champagne Stakes (1600m) – defeating Invader & Whispered Secret. The Mission improved his record to 2 wins (including the Gr3 The Schweppervesence) and 2 placings from 8 starts for $411,925 earnings. The Mission was a $32,500 purchase by Paul Perry Racing at the 2016 Gold Coast Yearling Sale from the draft of Edinglassie Stud. Trainer Paul Perry said The Mission would be aimed at the Gr1 3YO features in the spring. "I think he will be an ideal horse for races like the Golden Rose and the Caulfield Guineas," Perry said.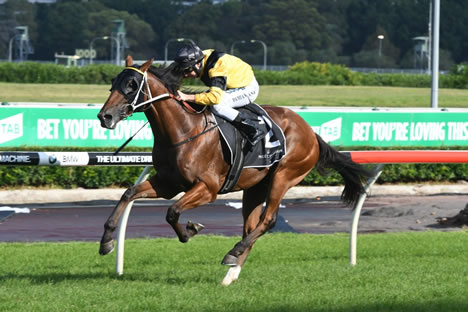 The Mission (image: Steve Hart)
The Mission Wins Gr3 The Schweppervesence
Monday, 27th March 2017
At Rosehill Gardens in Sydney, multiple Gr1-winning shuttler & former star Australian sprinter Choisir (Danehill Dancer-Great Selection, by Lunchtime) added a Group success when 2YO colt The Mission scored by 2.5 lengths for trainer Paul Perry in the $150,000 Gr3 The Schweppervesence (1400m) for 2YOs, over fellow 2YO colts Astoria (Medaglia d'Oro-Segue, by Ad Valorem) & Muraahib (Reset-Sultah, by Exceed and Excel). This was the first stakes victory for The Mission who improved his record to 1 win and 1 placing from 6 starts for $106,925 earnings. The Mission was a $32,500 purchase by Paul Perry Racing at the 2016 Gold Coast Yearling Sale from the draft of Edinglassie Stud.
Final Golden Slipper Field & Barriers
Wednesday, 15th March 2017
The final field has been declared (16 plus three emergencies) and the barrier draw conducted for the world's richest juvenile race – the $3.5 million Gr1 Golden Slipper (1200m) to be run at Rosehill Gardens this Saturday, 18th March. Boom Queensland filly Houtzen is the current $4.40 tab favourite for the race despite drawing wide in barrier 16. Fellow unbeaten filly She Will Reign also fared poorly, with connections coming up with gate 13. The Gary Portelli-trained filly is second favourite at $5. Next best is Blue Diamond winner Catchy at $7 (barrier 8), followed by Blue Diamond runner-up Pariah at $8 (barrier 4). All other runners are at double figure odds headed by Tulip at $11 (barrier 10). The final field is:
PARIAH (Peter & Paul Snowden-Blake Shinn) 56.5kg (4)
VERANILLO (John O'Shea-Brenton Avdulla) 56.5kg (11)
TRAPEZE ARTIST (Gerald Ryan-Tim Clark) 56.5kg (5)
SINGLE BULLET (Gary Portelli-Tye Angland) 56.5kg (3)
DIAMOND TATHAGATA (Mark Newnham-Glyn Schofield) 56.5kg (7)
TREKKING (John O'Shea-William Buick) 56.5kg (18)
INVADER (Peter & Paul Snowden-Hugh Bowman) 56.5kg (15)
MENARI (Gerald Ryan) 56.5kg (1)
CATCHY (David & B Hayes & T Dabernig-Craig Williams) 54.5kg (8)
FORMALITY (David & B Hayes & T Dabernig) 54.5kg (2)
TULIP (David & B Hayes & T Dabernig) 54.5kg (10)
SHE WILL REIGN (Gary Portelli-Ben Melham) 54.5kg (13)
FROLIC (Michael Freedman-Tommy Berry) 54.5kg (17)
TEASPOON (Michael Freedman-Zac Purton) 54.5kg (14)
HOUTZEN (Toby Edmonds-Jeff Lloyd) 54.5kg (16)
MADEENATY (David & B Hayes & T Dabernig-Regan Bayliss) 54.5kg (9)
(emergency) CHAUFFEUR (Gerald Ryan-Joshua Parr) 56.5kg (19)
(emergency) SHOWTIME (Michael, Wayne & John Hawkes) 56.5kg (6)
(emergency) THE MISSION (Paul Perry) 56.5kg (12)
Baker Turns Screws On Star Sprinter
Friday, 27th January 2017
Cambridge trainer Murray Baker has provided the final word on triple Gr1 winner Turn Me Loose (Iffraaj-Indomitable, by Danehill) ahead of his first-up run in tonight's Gr2 Australia Stakes (1200m) at Moonee Valley, reports NZ Racing Desk. "Everything's fine with him. He'll run in this race and then go on to the Orr and the Futurity," Baker said, while noting, "Friday's race will probably be too short for him, but the mission is the other two races. He ran fourth in the Orr last year then won the Futurity. He's working well and looks a treat." The Gr1 CF Orr Stakes (1400m) is run at Caulfield on 11 February, a fortnight before the Gr1 Futurity Stakes (1400m) at the same track. The Australia Stakes will be a star-studded affair with the likes of Gr1 winners Black Heart Bart, Palentino, Flamberge, Malaguerra, and up-and-coming types such as Chetwood and Winx's half-brother El Divino all entered for the $200,000 feature.
2011
Messara 4: No "Conflict Of Interest"
Friday, 16th December 2011
John Messara also responded to the suggestion he may have a conflict of interest in accepting the role as chairman of Racing NSW because he is also the head of . He told The Sydney Morning Herald: "The fact I have been involved in all facets of our industry, racing, breeding, I've got a training centre, sponsorship, fitted me very well for this job. I've a huge swathe of contacts at all levels; over the years I've built a very strong network of contacts & relationships both locally & internationally. They are going to be of great assistance. While I think the challenges are big, I thought the opportunities were very exciting. I'm full of ideas on how to improve the lot of racing in NSW & I'm looking forward to discussing those ideas with the executive & with my colleagues on the board." And The Daily Telegraph noted Messara "was at pains to point out his chairmanship of the new Racing NSW board will not be a dictatorship" & emphasised: "I'm not running off my own agenda. I've got an opportunity to work with some wonderfully talented people on this board & Racing NSW already has an outstanding executive team led by Peter V'landys & their input is vital. There is no conflict; I'm absolutely at one with the racing industry. I've got the confidence to invest in this sport in a very large way & I'm extremely well qualified to know the difficulties facing participants, our trainers, jockeys and owners. I'm in tune with all of that. All I want to do is improve the lot of participants in NSW - that is not a conflict, that is part of the mission statement of Racing NSW!"
NY Regulators Seek Ideas From "Panel Of Racing Fans"
Friday, 1st July 2011
Australian Officials Take Note: Also in New York, regulators "are creating a panel of racing fans to help provide new ideas to pump life into the state's struggling thoroughbred industry" reported bloodhorse.com. The mission of the 5-member Racing Fan Advisory Council will be "to help regulators figure out ways to increase racing's fan base, as well as to incorporate procedures to ensure that the opinion of the fan is a central part of the regulation of horse racing".
Arqana International Role For Marc De Chambure
Wednesday, 23rd February 2011
In France, former Haras d'Etreham head Marc de Chambure "has been handed the mission of developing Arqana's business abroad" reported racingpost.com. De Chambure "already holds positions on the Arqana board as vice-president & breeders' representative"; he will "further his involvement within the management as Vice President in charge of international development.
2006
Horse Industry Mobilises To Protect Fayette Farmland
Thursday, 8th June 2006
In Kentucky, "an update of the Comprehensive Plan For Fayette County has attracted heightened interest from the local horse industry, which has formed the Fayette Alliance to protect farmland," reported bloodhorse.com. At issue is the "possible expansion of the Urban Services Area boundary to allow for future development" on the 128,000 acres outside Lexington's Uurban Services Area. Fayette Alliance organiser & former director of the Blue Grass Conservancy (which protects thousands of acres in Fayette & surrounding counties) Margaret Graves declared: "This decision is important to the thoroughbred industry. The farmland in Fayette County is what makes it such a special place to live." Fellow Fayette Alliance member & Darby Dan Farm managing partner John Phillips added: "This is our factory floor. In order for it to operate efficiently, we need to maintain the critical mass. Suburban sprawl intrudes upon our factory floor & there's incremental erosion to that floor. The mission of the Fayette Alliance is to educate Fayette County of the importance of the industry, its importance to the economy & the importance to the welfare of the community as a whole. Obviously, thoroughbreds play a major part in that process."
Keeneland Approves Polytrack Renovation
Friday, 21st April 2006
In the US, Keeneland Race Course's board of directors "approved a project to overhaul the main track with a Polytrack surface that is wider & longer in circumference than the current dirt surface," reported thoroughbredtimes.com. Keeneland "plans to have the track ready in time for its October meet, which would make the Lexington facility the 3rd in North America to race on Polytrack"; Turfway Park installed the surface in September 2005 & Canada's Woodbine plans to race on Polytrack beginning in September. Keeneland president Nick Nicholson commented: "With these renovations & improvements, we hope to have one of the safest & most modern racetracks in the world. Our track has not changed much since it was laid out & constructed using mules prior to our 1st race meeting in 1936. We believe that by taking advantage of the latest cutting-edge advancements & creating the safest racing possible, we further the mission outlined by our founders to build a model racetrack."